Bollywood celebrities have entertained people for a long while in Film Industry. The two thing which people are mad for in India and thoroughly love is Cricket and Bollywood. Indians are the die-heart fan of the sportsmen and stars who entertain us with making us feel a part of them for free with their talent. Young generation stars are having healthy relationships with each other may it be some Bollywood famous actor and a famous loved sports person.
In the recent years, there has been a lot of marriages of the Bollywood celebrity with other popular stars in the country from different fields. Cricketer marrying a Bollywood celebrity is nothing new it has been frequent over the years. From the recent marriage of Yuvraj Singh with actress Hazel Keech to Harbhajan Singh and Geeta Basra marriages between Indian cricketers and Bollywood actress is the latest trend. Right now, how can we miss the officially declared relationship of Virat Kohli and Anushka Sharma which broke all the rumors?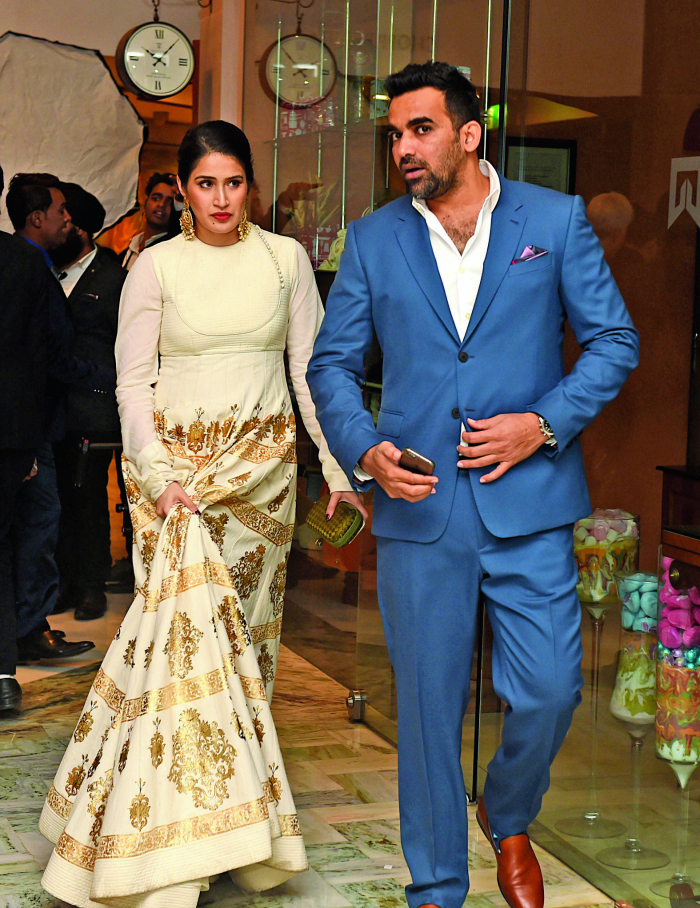 The former Indian fast bowler Zaheer Khan was in a relationship with Chak De India actress Sagarika Ghatge were the reports during the Yuvraj Singh-Hazel Keech wedding. Indian batsman was the first one to drop a huge hint about their relationship on social media website he tweeted on Twitter. Zaheer- Sagarika neither of the two has confirmed or declared anything officially.
All the best @sagarikavghatge for tonight remember ufrom the days when u dated a v c of the Indian team good choice not do it in real life ? pic.twitter.com/1Qq6TZ1WIh

— yuvraj singh (@YUVSTRONG12) February 16, 2017
Zaheer-Sagarika's relationship is gaining more grounds after the New year.┬á SagarikaÔÇÖs latest film ÔÇÿIraadaÔÇÖ released on Friday was appreciated by many with congratulations for her hard work but the special one was by Zaheer Khan for her rumored girlfriend.┬á Zaheer tweeted about the release of the film and praised it for being a gripping story. Nothing created that much buzz but above all the mischief sportsmen known in all grounds, Yuvraj Singh's tweet went viral.
Yuvraj Singh tweeted for Sagarika for her film and congratulating her with that he indirectly tried tagging Zaheer in the conversation. Yuvraj has given his review after watching the film saying that it has a very good idea and is an excellent movie. Sagarika even retweeted Yuvraj's appreciation on her film.
ÔÇ£Excellent subject. Big Awareness,ÔÇØ says @YUVSTRONG12. Have you booked your tickets yet? #Irada https://t.co/SCe4fnqloh pic.twitter.com/7dlwLgyfd7

— Irada Entertainment (@IradaEntLLP) February 17, 2017
Zaheer has been not paired up with a Bollywood actress for the first time in his life he has experienced this before also. The former Baroda pacer was earlier linked with Isha Sharvani which never went official sadly. The former India left-arm pacer, who has taken close to 300 Test wickets, is one of the most successful Indian pacers in ODI's as well as in both Test Cricket.