Singam 3 the third part in singam series to hit the big screens from february 9 after the postponment for 3 times due to various issues. Suriya, Shruti hasan and Anushka plays lead roles in the film. Soori to play a comedy role in the film and his character is said to be an important role in the film. This action entertainer directed by director Hari under studio green productions has already created a lot of expectations over it. The crew has promoting the movie in a grand manner by conducting various events. The music done by Harris jeyaraj seems to be a huge positive in the film and we had already witnessed the mass background scores in teaser and other promo videos. Recently a press meet has been conducted by Singam 3 team in which Suriya, Producer Gnanavel raja and director hari attended it .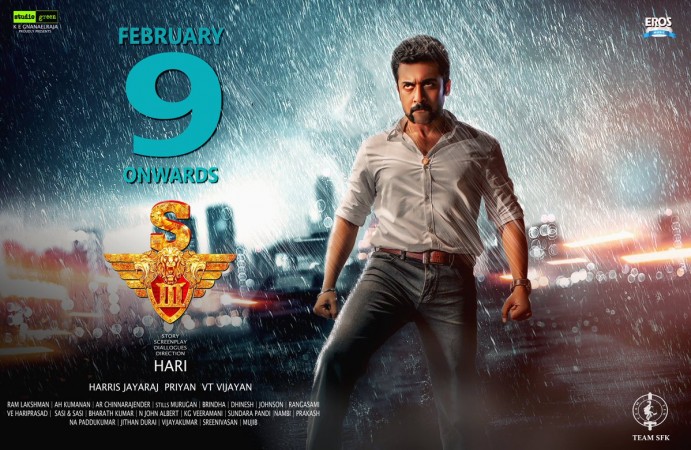 SINGAM 3 TEAM SEEMS TO BE VERY CONFIDENT :
In that press meet we can able to see a lot of confident faces in Singam 3 team as they have high hopes over the film, they said that they are aware of online trolls over Suriya and the movie . but they will never take it as serious and they said that the movie will give a nice answer to all of them. They also added that the film will be an pure entertainer which entertains all sort of audience. Like previous 2 movies in this series, this movie too gives a sureshot treat to Suriya fans who are waiting to see their in ultramass avatar once again.
WILL THIS OVERCONFIDENCE BACKFIRES THEM :
The producer of the film Gnanavelraja says that the Suriya is an biggest star and he has stardom equal to Superstar Rajini sir. The singam 3 will be a huge success for all of them and it will also increase the stardom to suriya. He also says that the film will collect around 200 crs and it will break all the previous records. This has turned out to be an hot topic in social media now, as suriya films not even comes near to 200 crs , this speech may backfire them after the release of the film. Already some started to create trolls upon this, let's all wait and watch whether the film will prove that his words as true or whether it's an overconfident speech.