Shah Rukh Khan has taken great efforts to promote his 2017 release, Raees. The actor, who plays a gangster in the movie, has been to various shows and also tried new methods of promotions. However, experimenting with promotions has become a costly affair for King Khan as a FIR has been filed against SRK┬áfor ÔÇÿriotingÔÇÖ, ÔÇÿdamaging propertyÔÇÖ during Raees promotion. This FIR comes after Shah Rukh Khan took a train ride from Mumbai to New Delhi aboard August Kranti Rajdhani Express as a promotions event for Raees.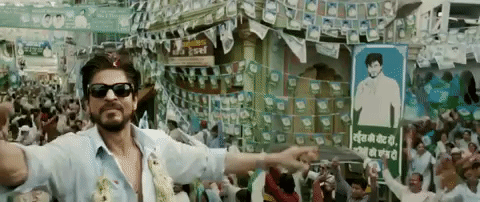 A railway court has asked the GRP to file the case based on a complaint lodged by a vendor, reported PTI.
ÔÇ£We have registered a case against Shah Rukh Khan and other members of the promotional team for rioting, causing unlawful assembly, affray and damage to public property,ÔÇØ said GRP superintendent of police Om Prakash.
The actor boarded the train on January 23 and began his 17-hour journey from Mumbai to Delhi. On February 13, 2017, a Government Railway Police in Kota registered a complaint against SRK for ÔÇ£riotingÔÇØ and ÔÇ£damagingÔÇØ railway property. In his complaint, Vikram Singh alleged that on January 23, when Khan arrived at Kota railway station during the promotion of Raees, a ruckus was created by his fans. A case has been registered against Shah Rukh Khan under sections 427 (mischief causing damage to the amount of Ôé╣50), 120(b) (criminal conspiracy), 147 (rioting), 149 (every member of unlawful assembly guilty of an offense committed) and 160 (committing affray) of IPC.
Station House Officer Ganga Sahay Sharma said Khan had been booked under various sections of the Indian Penal Code, the Railway Act and the Prevention of Damage to Public Property Act.
The case has been filed by a vendor named Vikram Singh who alleged that SRK was responsible for all the chaos at the station. The vendor also claimed that his trolley overturned and he got injured when SRK threw something at the public and they rushed to grab it. "In his complaint, Vikram alleged that on January 23, when the actor arrived at Kota railway station during the promotion of Raees, the ruckus was created by his fans," Bollywood Life quoted the SHO of GRP police station as saying.
One person died and a number of others were injured when fans who swarmed the Vadodara railway station to catch a glimpse of the actor, rushed towards the exit after the train left the station.
Raees released on January 25 and minted over Rs 200 crore.
Few days after the Uri attack, Maharashtra Navnirman Sena (MNS), a regional political outfit, demanded a ban on films featuring Pakistani actors. Raees┬áwas under the scanner as it featured Pakistani actress Mahira Khan. Khan had even visited MNS chief Raj Thackeray at his residence, assuring that Mahira Khan would not be used for the filmÔÇÖs promotion.
The makers of Raees or Shah Rukh have not made any official statement regarding it yet. The superstar is currently flying high with the success of Raees at the box office.
Well now if the case has been filed against the superstar, another case should also be filed against the Ministry of Railways, as they were responsible for the safety and security of the fans, vendors, and passengers, in the train and at the station. True, Shah Rukh Khan was promoting his film Raees, Ministry of Railways too were promoting their Railways through the star power of Shah Rukh Khan. They even shared his pictures while he was traveling, through their official Twitter account.
The investigation into the matter has been initiated.